La tercera edición del festival de música alternativa y alterlatina de Chicago promete volver a hacer, como su nombre lo dice, mucho ruido. Intocable con Alejandro Marcovich, Cultura Profética, Molotov, Julieta Venegas, Duncan Dhu, Fobia, Bomba Estéreo y Mon Laferte, entre los que dirán presente.

Line up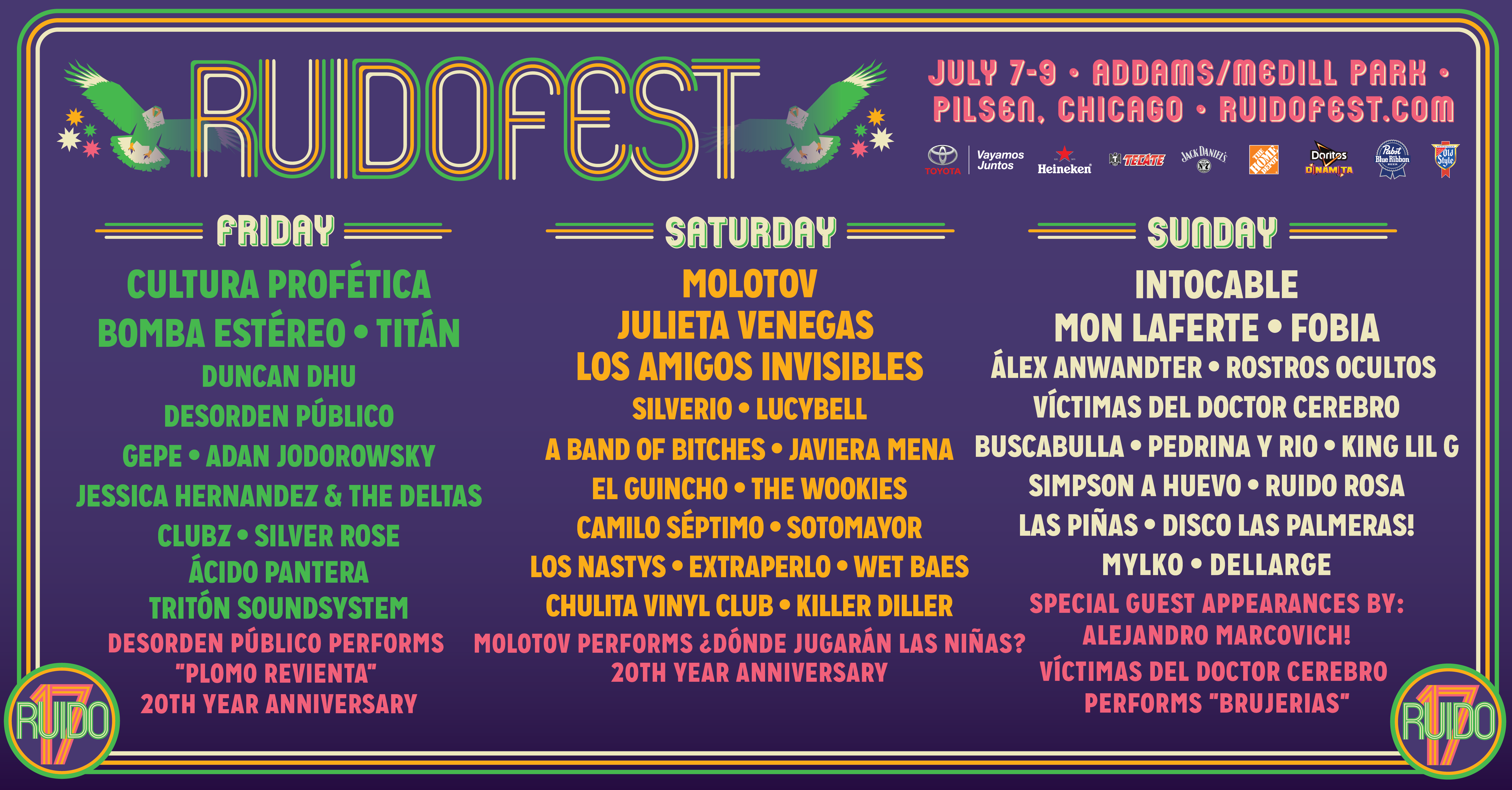 Viernes
Cultura Profética • Bomba Estéreo • Titán • Duncan Dhu • Desorden Público • Gepe • Adan Jodorowsky • Jessica Hernandez & The Deltas • Clubz • Silver Rose • Ácido Pantera • Tritón Soundsystem
Sabado
Molotov • Julieta Venegas • Los Amigos Invisibles • Silverio • Lucybell • A Band of Bitches • Javiera Mena • El Guincho • The Wookies • Camilo Séptimo • Sotomayor • Los Nastys • Extraperlo • Wet Baes • Chulita Vinyl Club • Killer Diller
Domingo
Intocable • Mon Laferte • Fobia • Álex Anwandter • Rostros Ocultos • Víctimas Del Doctor Cerebro • Buscabulla • Pedrina Y Rio • King Lil G • Simpson A Huevo • Ruido Rosa • Las Piñas • Disco Las Palmeras! • Mylko • Dellarge
*LOS BOLETOS EN CÓMODOS PAGOS ESTÁN DISPONIBLES EN TRES PAGOS DE $43.33 PARA UN BOLETO DE ADMISIÓN GENERAL PARA 3 DÍAS Y $66.66 PARA UN BOLETO DE VIP PARA 3 DÍAS. ESTE PLAN DE PAGO ESTÁ DISPONIBLE HASTA EL 5/18/17. HAZ CLICK AQUÍ PARA BOLETOS ADMISÍON GENERAL Y VIP LAYAWAY.
VIP Incluye:
Admision al Festival 07/7 – 07/9
Entrada Express
Acceso a Re-entrar & Pulsera conmemorativa
Acceso al area de descanso  VIP
Acceso a las areas especiales del VIP y a la area con asientos.
Agua embotellada gratis
Baños con aire acondicionado.
Acceso al bar con Cerveza premium y Cocteles
*Capacidad para las areas especiales del VIP pueden ser limitadas y depende de su cupo.